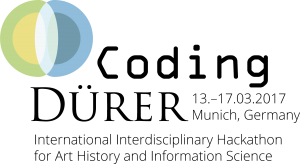 Digital Art History can only be successful in close cooperation with Information Science. At the same time, Information Science has a great interest in working together with the visual Humanities and their cultural content. Working with mixed methods from both disciplines promises interesting results from which both sides benefit.
This is reason enough to bring 40 people from both disciplines together and let them work with art-historical data. What can we do together? How can we combine qualitative and quantitative methods? What mutual relation does distant and close viewing have to each other? How is a mixed methods approach feasible?
This should be experienced in a Spring School on March 13-17, 2017 in Munich at "Coding Dürer". Why Dürer? The German Renaissance painter Albrecht Dürer has been one of the most innovative artists of his time and open to new imaging technology. If you come to Munich, you will be able to see his 1500 self-portrait in which he shows himself as the personification of progress and pride in art production. What a better patron could we choose to preside over a week of coding, data analysis and visualization?
We are happy to receive funding for this event from the VolkswagenStiftung, to have the International Journal for Digital Art History as a partner and to have won the following keynote speakers for the event:
And now we want you to apply until January 10 to participate at this event. For more information, please go to http://codingdurer.de and if you would like to follow us, check #CodingDurer