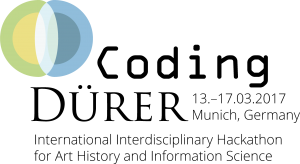 Dig­i­tal Art His­to­ry can only be suc­cess­ful in close coop­er­a­tion with Infor­ma­tion Sci­ence. At the same time, Infor­ma­tion Sci­ence has a great inter­est in work­ing togeth­er with the visu­al Human­i­ties and their cul­tur­al con­tent. Work­ing with mixed meth­ods from both dis­ci­plines promis­es inter­est­ing results from which both sides benefit.
This is rea­son enough to bring 40 peo­ple from both dis­ci­plines togeth­er and let them work with art-his­tor­i­cal data. What can we do togeth­er? How can we com­bine qual­i­ta­tive and quan­ti­ta­tive meth­ods? What mutu­al rela­tion does dis­tant and close view­ing have to each oth­er? How is a mixed meth­ods approach feasible?
This should be expe­ri­enced in a Spring School on March 13 – 17, 2017 in Munich at "Cod­ing Dür­er". Why Dür­er? The Ger­man Renais­sance painter Albrecht Dür­er has been one of the most inno­v­a­tive artists of his time and open to new imag­ing tech­nol­o­gy. If you come to Munich, you will be able to see his 1500 self-por­trait in which he shows him­self as the per­son­i­fi­ca­tion of progress and pride in art pro­duc­tion. What a bet­ter patron could we choose to pre­side over a week of cod­ing, data analy­sis and visualization?
We are hap­py to receive fund­ing for this event from the Volk­swa­gen­S­tiftung, to have the Inter­na­tion­al Jour­nal for Dig­i­tal Art His­to­ry as a part­ner and to have won the fol­low­ing keynote speak­ers for the event:
And now we want you to apply until Jan­u­ary 10 to par­tic­i­pate at this event. For more infor­ma­tion, please go to http://​cod​ing​dur​er​.de and if you would like to fol­low us, check #Cod­ing­Dur­er