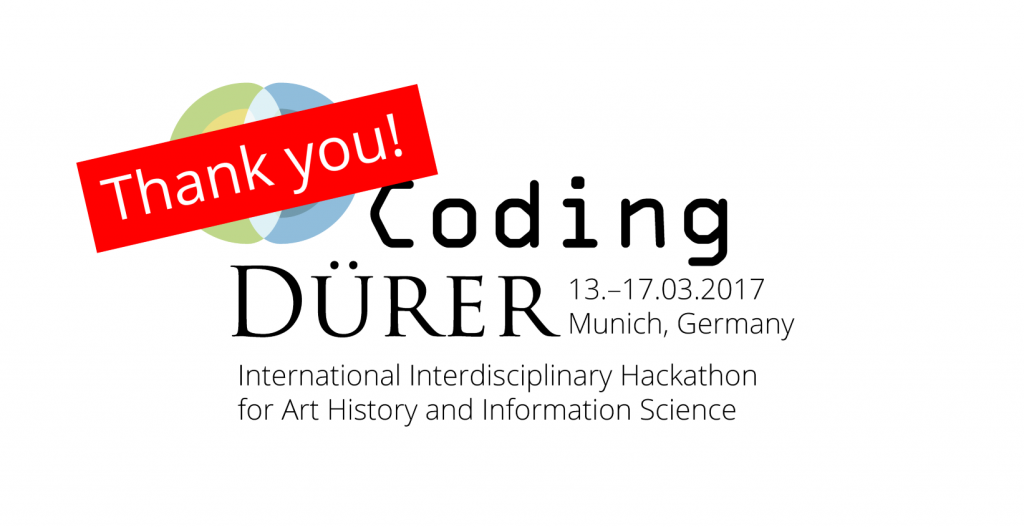 Cod­ing Dür­er has been a dream once. Then it has been a third-par­ty fund­ing project. Then an orga­ni­za­tion­al knot to untan­gle. And then it became true.
For­get­ting the sweat, I am very very hap­py about the process and out­come of Cod­ing Dür­er. Plus: Noth­ing went seri­ous­ly wrong. A project like this wouldn't be pos­si­ble with­out the help of many.
Here is a – prob­a­bly still incom­plete – list of those peo­ple I whole­heart­ed­ly like to thank:
The Volk­swa­gen Foun­da­tion and par­tic­u­lar­ly Vera Szöl­lösi-Brenig for mak­ing this event finan­cial­ly pos­si­ble. All food, drinks, trips and rooms are on them! We are indebt­ed and will report back the results of this event.
Natalia Kar­baso­va and Patrick Müller from Hubert Bur­da Boot­camp for kind­ly host­ing us and help­ing out in many situations.
Son­ja Gasser in help­ing me secur­ing the fund­ing from Volk­swa­gen Foun­da­tion and in par­tic­u­lar for design­ing the great Cod­ing Dür­er logo.
Philipp Hart­mann for the logis­tics of food and tech­nol­o­gy and in par­tic­u­lar for being reli­ably at the right place at the right time.
Nuria Rodríguez Orte­ga, Anna Ben­tkows­ka-Kafel, Lev Manovich, Justin Under­hill and Mario Klinge­mann for their friend­ship, inspi­ra­tion and believe in my pursuits.
Huber­tus Kohle for giv­ing me the oppor­tu­ni­ty and free­dom to engage in those pursuits.
Liska Surkem­per from the Inter­na­tion­al Jour­nal for Dig­i­tal Art His­to­ry for her won­der­ful support.
Chris­t­ian Waha, from Indus­tri­al Holo­graph­ics, for kind­ly pro­vid­ing the Hololense. We will nev­er forget.
Chris­t­ian Soell­ner and Flo­ri­an Thurn­wald from Microsoft for mak­ing their vis­it pos­si­ble on very short notice.
Dou­glas McCarthy and Bar­bara Fis­ch­er for their invalu­able advice and expe­ri­ence and in par­tic­u­lar for fram­ing this event into a wider context.
The many data providers, in par­tic­u­lar those, who con­tributed to our list and blog. You are our partners.
All fol­low­ing and con­tribut­ing to #Cod­ing­Dur­er on Twit­ter. You have been an inte­gral part of this event.
And last, but not least, all par­tic­i­pants. You have been work­ing hard and made this event the suc­cess it is.