The hackathon Cod­ing Dür­er took place exact­ly three weeks ago. Now it is time to take a look back. What are lessons learned? What is the way ahead?
In addi­tion to the live­ly work­ing atmos­phere of the inter­na­tion­al par­tic­i­pants, the active involve­ment of many peo­ple via social media and live streams had been extra­or­di­nar­i­ly suc­cess­ful. On Mon­day alone we had over 1,000 views on our web­site. Since its launch in Novem­ber the ana­lyt­ics rose to over 14,000 views.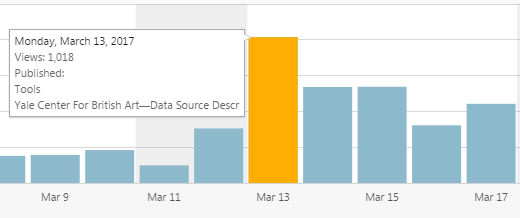 Two blogs report­ed on us. And the hash­tag #Cod­ing Dür­er worked fan­tas­ti­cal­ly to spread what we did over the five days and to get respons­es from peo­ple, who could not be there with us. Alex Kruse has ana­lyzed the hash­tags won­der­ful­ly and pub­lished his R‑code on GitHub for every­one to use.
Post #Cod­ing­Dur­er Twit­ter Analy­sis. Code on my GitHub. Thnx again to @HxxxKxxx for orga­niz­ing. pic​.twit​ter​.com/​J​b​V​j​C​x​B​v0S

— Alex Kruse (@krusealex2013) 21. März 2017
Ali­son Lang­mead from the depart­ment of His­to­ry of Art and Archi­tec­ture at the Uni­ver­si­ty of Pitts­burgh gath­ered col­leagues and stu­dents in front of a big screen to watch the live streams and twit­ter as if they were in Munich. That was the kind of involve­ment I dreamed of.
Ready, #Cod­ing­Dur­er! pic​.twit​ter​.com/​9​l​p​w​0​Y​V​QOl

— Ali­son Lang­mead (@adlangmead) 17. März 2017
The final pre­sen­ta­tion has shown beau­ti­ful­ly what we accom­plished in only a few days. Until today, the live video has been watched by almost 250 view­ers from all over the world — not bad for such a spe­cial­ized top­ic. We have seen the results of sev­en teams: The Rogues, Sim­i­lar­i­ties, Meta­da­ta, Chat­bot, VABit, Dutch Church Inte­ri­or Paint­ings and Trac­ing Picas­so. I have put togeth­er a few infor­ma­tion about every project on the press page—addi­tion­al­ly some teams have doc­u­ment­ed their work in ded­i­cat­ed project web­sites or in blog posts, oth­ers are still work­ing on that. This is a great help to fol­low the devel­op­ment of the projects, their chal­lenges and results, and thus giv­ing oth­ers the chance to get in con­tact with them and con­tin­ue the work.
Now is a good time to rem­i­nisce what the con­di­tions have been for such a pro­duc­tive and cre­ative out­come. Along the way, every­one has learned so much. What I have learned is that the selec­tion and for­ma­tion of the groups is cru­cial for inter­dis­ci­pli­nary col­lab­o­ra­tion. Hav­ing talked to many, it seems to me that the fol­low­ing points are important:
The size of the group. An inter­dis­ci­pli­nary group of art-his­to­ri­ans and infor­ma­tion sci­en­tist is in need of many skills. There­fore it should not be too small. On the oth­er hand, the big­ger it is the more com­mu­ni­ca­tion over­head is nec­es­sary. A team on 6 – 7 par­tic­i­pants seems to be ideal.
The bal­ance of skills. The tech­ni­cal real­iza­tion start­ing with data clean­ing already needs a lot of man pow­er. But hav­ing too few art-his­to­ri­ans, the group would lack the con­tin­u­ous con­tex­tu­al­iza­tion of the work in regard to the research ques­tion. Bal­anc­ing the group is, thus, key. In addi­tion: To have a few peo­ple expe­ri­enced in both fields or a design­er who can bridge both spheres would be ideal.
An inter­nal project man­age­ment. While we have had fre­quent plenum dis­cus­sions to have every project know about every oth­er, this is also nec­es­sary with­in the group in order to keep every­one up-to-date about the cur­rent chal­lenges and goals and assign a role to every par­tic­i­pant. Also: The use of visu­al­iza­tions such as flip-charts or sim­ply papers taped to the wall help very much the inter­dis­ci­pli­nary communication.
The Post-It wall seems to have served that need quite well, maybe in an unex­pect­ed way, but could be stream­lined next time in order to achieve the goals above even better.
What were lessons learned? Accord­ing to the par­tic­i­pants, who filled out a feed­back form, every­one was excit­ed about the course of the week, the thrilling dis­cus­sions on art from dif­fer­ent view­points and the aston­ish­ing results. One project group pro­posed that it would be bet­ter next time to con­tact data providers before­hand — as they downed the Get­ty servers sev­er­al times! For this rea­son, it would be pro­duc­tive to have tech­ni­cal sup­port at hand, such as serv­er space. Peo­ple from dif­fer­ent back­grounds had dif­fer­ent needs and expec­ta­tions, but they agreed in one thing: More time to work until late at night — and more cof­fee and snacks through­out the days!
To me, Cod­ing Dür­er has giv­en a glimpse of what Dig­i­tal Art His­to­ry could be in the future. It has shown that the tech­nol­o­gy is there, we just need to bring the right peo­ple togeth­er. I have the feel­ing we have pre­pared the soil for many projects to keep grow­ing. And I have the strong believe that it has not been the last Cod­ing Dür­er. With the things we have learned, we have to plan for a Cod­ing Dür­er 2018 already. I wel­come every fund­ing orga­ni­za­tion or spon­sor to get in con­tact with me to pave the way into the future of Dig­i­tal Art History.
Thank you @lalisca for everything!
What are your thoughts?