Trac­ing Picas­so is a project that aims to analyse and under­stand the Picas­so Phe­nom­e­non.
Picasso's art­works are present through­out the great­est art col­lec­tions and muse­ums today. We want to retrace the path of these art­works (prove­nance) as well as their insti­tu­tion­al recep­tion, both in Europe and the US, in order to get a bet­ter under­stand­ing of this glob­al phe­nom­e­non. Here are a few of our research questions:
When were Picasso's works acquired by the var­i­ous institutions?
Are there peaks or pat­terns that can be identified?
Which works sparked inter­est­ed at which times?
Through which routes did they spread from their place of cre­ation until their cur­rent collection?
The data set from Amer­i­can muse­ums is very rich and we have there­fore decid­ed to pro­duce sev­er­al types of visu­al­i­sa­tions to explore it. Data from Euro­pean muse­ums (spe­cial­ly in Spain and France) is not as eas­i­ly acce­si­ble, and reusable. The amount of labor required to retrieve the data (from Euro­pean muse­ums), togeth­er with copy­right issues, had a major impact in the results we are pre­sent­ing today.
The time-map
This inter­ac­tive visu­al­i­sa­tion aims to show the migra­tions of Picasso's art­works through­out the world. The spa­tial dimen­sion high­lights not only his per­son­al trav­els (where the art­works are cre­at­ed) but also the one of his art­works (where they were and cur­rent­ly are). The chrono­log­i­cal dimen­sion allows for each work to trav­el from one loca­tion to the next. It also shows the grow­ing size of the var­i­ous col­lec­tions as the art­works are acquired by the institutions.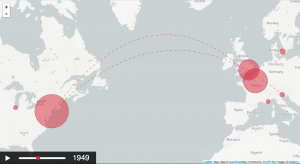 Demo (test­ed with Chrome): https://​ilokhov​.github​.io/​p​i​c​a​sso
Code: https://​github​.com/​i​l​o​k​h​o​v​/​p​i​c​a​sso
Basic fea­tures and func­tion­al­i­ties for the map/time visualisation:
dis­play­ing the loca­tion of the objects
tem­po­ral dimen­sion: show­ing loca­tion at a cer­tain time
visu­alise the move­ment of the objects
The graphs
These visu­al rep­re­sen­ta­tions of our data set enable more detailed infor­ma­tion on the acqui­si­tion trends. The graphs reveal cer­tain clus­ters and peaks that require fur­ther analy­sis, prompt­ing reflex­ion and cre­at­ing need to sup­ple­ment our data.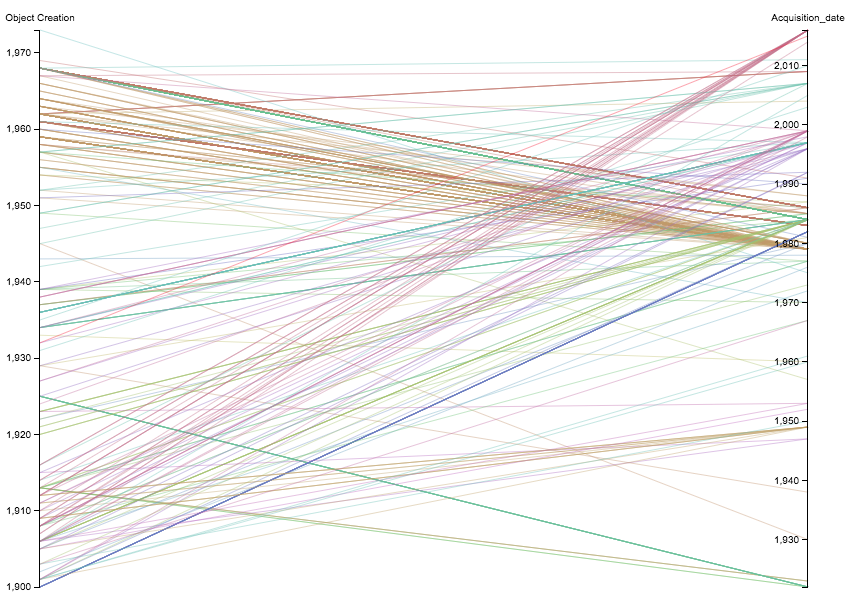 A few pre­lim­i­nary results:
A gen­er­al obser­va­tion in the data: there are many more gifts than pur­chas­es in the direct prove­nance of the works.
These dona­tions con­tain cer­tain peri­ods of Picasso's pro­duc­tion that inter­est­ing­ly com­plete the museum's collection.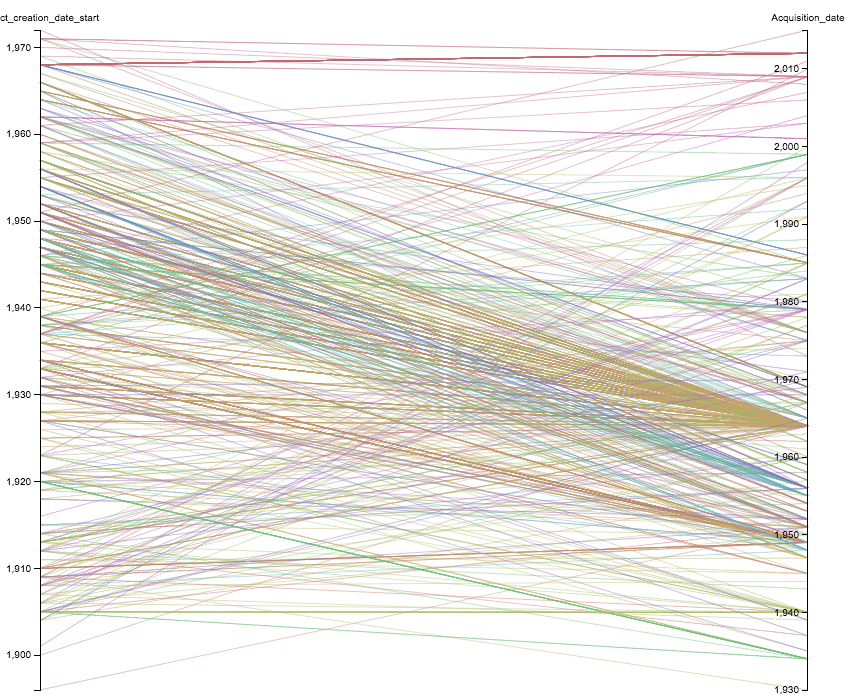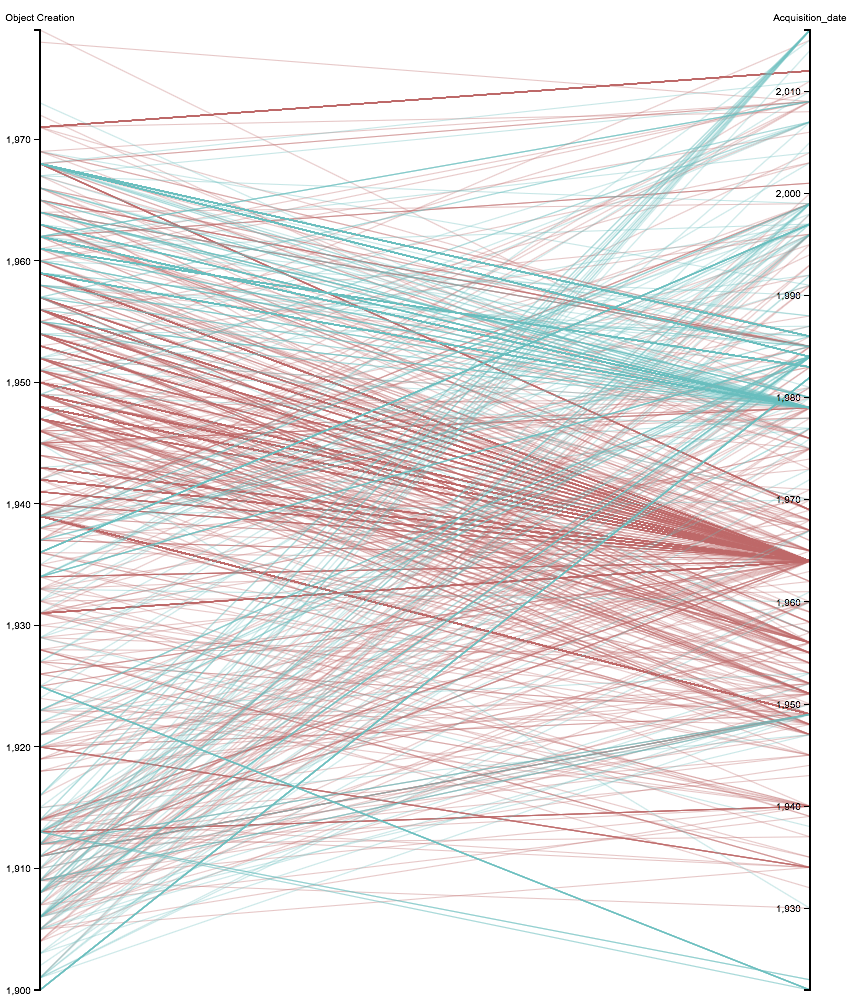 The data
We have cur­rent­ly nor­malised and merged data from UK and US open access collections:
To use data, we required sev­er­al attrib­ut­es, such as the cre­ation date, the acqui­si­tion date and the cur­rent col­lec­tion. We would like and have begun to com­plete the prove­nance (all loca­tions and dates for each indi­vid­ual artwork).
Data pro­cess­ing and clean up
Open­Re­fine (http://​open​re​fine​.org/)
Excel
Access to the cleaned up data will be pro­vid­ed on github
Data Struc­ture and inter­change for­mat for fur­ther use in visu­al­i­sa­tion:

JSON
Data struc­ture
Our project might be extend­ed, so that big­ger dataset could be used. In that case we put the extend­ed data on a serv­er in a rela­tion­al DBMS (here open source Mari­aDB). Then by means of SQL, all queries like "what art­works were pro­duced after two par­tic­u­lar artist met", or "where were cen­ters of art deal­ers activ­i­ty after WW2" can be answered. The query result, which is orig­i­naly in a table for­mat is trans­formed then to JSON struc­ture in PHP and passed to the visu­al­iz­sa­tion tool. Here there is the rela­tion­al schema we propose: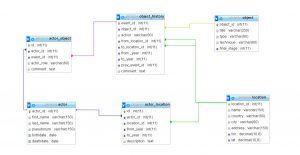 Tools for visu­al­i­sa­tion we evaluated:
We con­cldued there is no "out of the box" solu­tion for time/map viz that we found.
prob­lems we had with some libraries and tools:
not ver­sa­tile and gener­ic enough
too com­pli­cat­ed or not well doc­u­ment­ed enough for easy reuse
do not offer suf­fi­cient func­tion­al­i­ties and have to be extended
In our case, it was eas­i­er to imple­ment the func­tion­al­i­ty by oneself.
Imple­men­ta­tion geot­em­po­ral visualisation:
Issues encoun­tered:
Data

Copy­right and licens­ing issues
Most data cre­ators, aggre­ga­tors and projects don't share data
Most data­bas­es don't offer com­plete data dumps
Not all online data is avail­able at the open data repositories

eg Tate shows all works online, but the open dataset on github does not include loans -> mismatch
eg Met shows prove­nance on their web­site, but didn't include the infor­ma­tion in the open dataset

Repub­lish­ing of merged dataset is prob­lem­at­ic, as not all data sources share the same license
Most open data is not doc­u­ment­ed prop­er­ly — call for paradata
Most datasets con­tain com­plex fields, which sum­ma­rize lots of information
Loca­tion of own­er ≠ loca­tion of art­work, so we sim­pli­fied it.

Tools

SPARQL

end­points:

SPARQL

offers lots of flex­i­bil­i­ty, but requires exten­sive knowl­edge of the under­ly­ing data model
Many dif­fer­ent data mod­els exist, so queries can't be reused

Wiki­da­ta — Wik­ibase model
Euro­peana — 

EDM

British Muse­um — 

CIDOC-CRM

end­points are not stable

Open­Re­fine extensions:

Man­u­al instal­la­tions necessary
No stan­dard rec­on­cil­i­a­tion ser­vices are pre-configured

JS

libraries

Many libraries out there — dif­fi­cult to check which one could be used to imple­ment the desired result (takes some time to eval­u­ate them)

Data struc­ture

Com­ing up with a good data struc­ture is tricky

Data import

Prob­lems fit­ting data from spread­sheets into required

JSON

format
Par­tic­i­pants