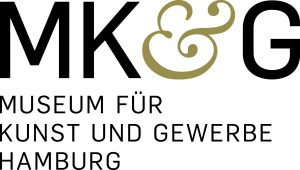 With approx­i­mate­ly 500,000 objects from 4,000 years of human his­to­ry, the Muse­um für Kun­st und Gewerbe Ham­burg (MKG) is one of Europe's most impor­tant muse­ums of art and design.
The digi­tised and pub­lished parts of the col­lec­tion are acces­si­ble online via MKG Col­lec­tion Online. The web­site fea­tures more than 10,000 art­works and arti­facts. The LIDO-XML dataset that is pro­vid­ed via GitHub con­tains meta­da­ta of all the pub­lished records includ­ing links to the con­nect­ed images, if avail­able. More than 7800 images are reusable with­out any restric­tions and can also be down­loaded direct­ly via the web­site. Please note our usage guide­lines, if reusing images that are marked CC0 or CC BY 3.0. The col­lec­tion can also be accessed via the web­sites and APIs of Euro­peana or Deutsche Dig­i­tale Bib­lio­thek but the data updat­ed most recent­ly is the LIDO-XML on GitHub.
A tool that has been devel­oped dur­ing the hackathon "Cod­ing da Vin­ci Nord" as part of the "Zeit­blick" project and that can be use­ful is the MKG Down­loader. This tool lets you fil­ter items from the LIDO-XML and down­load them.
The meta­da­ta includes infor­ma­tion about artist/actor, actor role, object type, title, event­type, date and place, mate­r­i­al, tech­nique, dimen­sions, marks and inscrip­tion, clas­si­fi­ca­tion, iconography/subject, depict­ed per­sons, depict­ed place, descrip­tion and rights meta­da­ta. The vocab­u­lary used for cat­a­logu­ing is in large parts linked to the Inte­grat­ed Author­i­ty File (GND), to Wikipedia and Geon­ames, as well as to the­sauri like Icon­class and the Art and Archi­tec­ture The­saurus (AAT). All per­sons and cor­po­rate bod­ies are linked to their respec­tive GND record, if available.
The datasets are placed in the pub­lic domain using a CC0 License.
If you find any errors or want to pro­vide addi­tion­al infor­ma­tion, please let us know.
Con­tact: Antje Schmidt, Head of Dig­i­tal Cat­a­logu­ing and MKG Col­lec­tion Online
#mkgham­burg